How to Delete Cookies on iPhone easily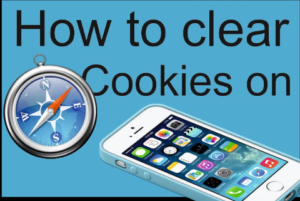 iPhone users often search for how to delete cookies on iPhone because removing these small files has a number of benefits, including faster system performance, greater security and of course an increase in available space on their phone. If you happen to be one among them then you have probably come to the right place. Nevertheless, before I show you how to clear cookies on iPhone let me first explain what cookies are and what benefits you could realize from deleting cookies on your iPhone.
What are cookies and why you need to clear cookies on iPhone?
Cookies are tiny text files stored by the browser on your device when you visit a particular website. These files typically contain information about your visit to the web page such as login information, personal data and other preferences. It helps to remember the details about you when you visit the site again.  Upon each return visit to any site you visit frequently, your browser sends the cookie back to the server, which makes browsing of the website, much easier and faster.
When too many cookies are allowed to accumulate on the device, they overload the system and cause it to run more slowly than it should. By taking the time to delete the cookies from your iPhone from time to time, you can free space on your device and improve the speed and browsing performance of your iPhone. Furthermore, it is a good precaution against security breaches. While many cookies are harmless, others can be used by the hackers to target information stored in cookies to retrieve your passwords and other important personal information. Some malicious websites can transfer cookies into your iPhone to monitor financial transactions, thereby stealing the identity of the site user. By setting your browser to delete cookies on iPhone each time the browser is closed, you can prevent these tracking attempts and reduce the risk of a security breach.
Now let us look into how to delete Cookies on iPhone. It is actually not a big thing to clear cookies on iPhone. However, that will log you out of every single website that you were previously logged into, and wipe any other cookie-based preferences. Below are some of the ways on how to delete cookies on iPhone / iPad.
1. How to delete Cookies on iPhone for Safari
When you visit a website on your iOS device your Safari browser by default retains browser history and cookies so that it can easily access that website when you visit the page next time. However, accumulation of these data over time causes to occupy considerable memory space and tends to slow down your iPhone. Sometimes the Safari browser on your iPhone may also misbehave due to storing of these cookies. The only solution to fix the problem is to delete the cookies. The process is simple.
Step1: Go to Settings on your iPhone;
Step2: Scroll down the page to 'Safari' and click on it;
Step3: Go down and find 'Clear History and Website Data' option at the bottom of the screen and tap on the option;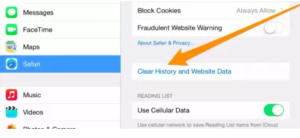 Step4: All the Safari cookies will get deleted on your iPhone;
2. How to delete Cookies on iPhone for specific websites
Follow the steps below to easily clear cookies on iPhone for a specific website.
1. Go to setting app on your iPhone;
2. Scroll down the page to 'Safari' and click on it;
3. Then scroll down until you see the 'Advanced' option on the right-hand side and click on it;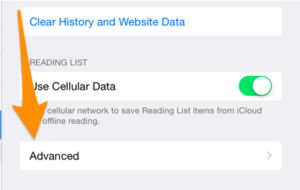 4. Now press the 'Website Data' button to see a list of websites that have put cookies on your device;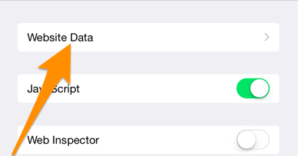 5. Tap 'Edit'at the top right of the screen;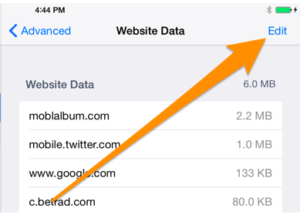 6. 'Red minus' icon will appear beside each of the websites. Tap on the red minus icon for the specific website whose cookies you want to delete and then tap 'Delete';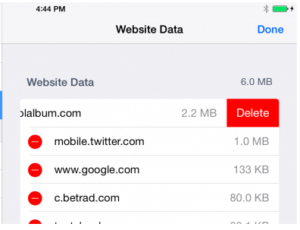 7. All the unnecessary cookies of the specific website will get deleted on your iPhone;
3. How to delete Cookies on iPhone for all Apps
How to clear cookies on iPhone for iPhone apps is best answered with the use of iMyFone Umate Pro. This dependable cleaner not only helps to delete the Safari browser cookies on your phone, but also other App cookies which cannot be deleted without uninstalling the apps and it is totally free. In order to use this app follow the simple steps below on how to delete cookies on iPhone for all the apps on it.
Step 1. Download and install iMyFone Umate Pro on your PC or Mac, and connect your iPhone to your computer via a USB cable;
Step 2. Click 'Quick Scan' button for a full scan of your iPhone for Space Saving analysis. Do not disconnect your iPhone from the computer or use your device during the scan process to ensure that the program operates properly. After the scanning is completed it will tell you how junk files, temporary files, photos, other large files, and Apps are eating up your memory;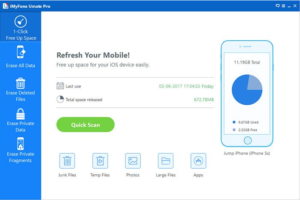 Step 3. Click the 'Clean' button next to 'Junk Files' option to delete Cookies on your iPhone for all apps besides removing other files like Photo Caches, app cache files, app temp files etc;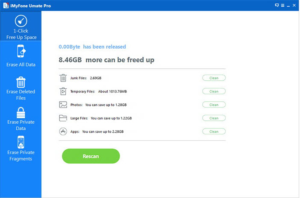 Step 4. After the 'Junk Files' are deleted, you will see how much space has been released;
Conclusion
Now that you know how to delete Cookies on iPhone, it is also very important for you to have a good understanding of how to manage these cookies which store your personal data and other preferences. These private data components, while offering convenience of much faster and easier browsing can also be sensitive in nature.  Whether it is your login information or the information of your preferred credit card, much of the data left behind at the end of your browsing session could potentially be harmful if those fall into wrong hands. Apple has taken a more proactive approach to cookies in iOS, blocking those originating from an advertiser or other third-party website by default under "Privacy & Security" options in settings under Safari.