Insert signature in Word – steps to follow.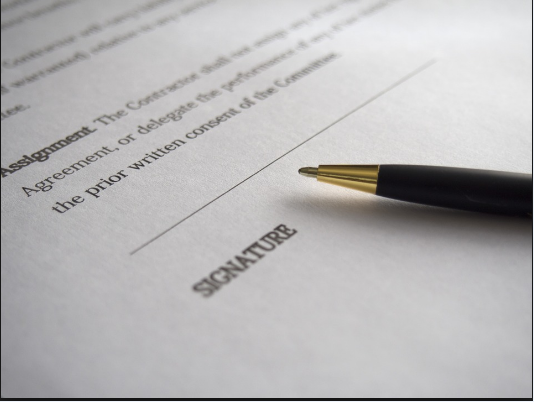 How to insert signature in word or Excel worksheet in Microsoft Office is an important thing that everyone should know. There are many vital documents like lease or contract agreements, financial documents, medical forms and basically anything official in our day to day lives, which require a signature. Asking someone for whom an Office document is meant for, to insert signature in word or worksheet is never a problem when the page is printed out. But to add electronic signature in an Office document requires a little bit of a workaround to get that hand-written appearance or for indicating exactly where one is required to sign. Before I go to describe the steps on how to insert signature in word let's take a look into what is a digital signature.
What is a digital signature?
Digital signature in word is a very useful and popular feature of Microsoft Office. It is used for demonstrating the authenticity of a digital message or document. A valid digital signature gives a recipient assurance that the message was created by a known sender (authentication), that the sender cannot deny any association with the signed content (non-repudiation) and that the content has not been changed or tampered with in transit (integrity). When you need to insert signature in word document or worksheet, follow the steps given below:
How to insert signature in word – add signature line for the signer
Step 1: Navigate to the Microsoft Office Word or Excel document in which to add signature;
Step 2: Place the cursor (pointer) in the location where you want to insert signature in word document or worksheet;
Step 3: Click Insert tab > Signature Line > Microsoft Office Signature Line;

Step 4: Wait for the Signature Setup dialog box to appear;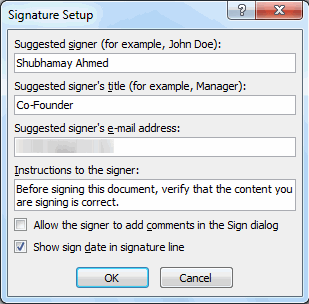 Step 5: Fill out the information in the setup box about the person who will sign the document (intended signer);
Step 6: Click 'OK'
Step 7: A signature line now appears at the location where the signer would insert signature in word document or worksheet;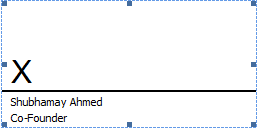 Step 8: To add additional signature lines, repeat steps 1 through 8.
Step 9: Now sent the document to the intended signer i.e. from whom you're requesting signature;
How to insert signature in word – steps to follow by the intended signer
If you are the signatory then follow these steps to insert signature in word document or excel worksheet:
Open the MS Office document in which you intend to insert signature in Word or worksheet. You will be notified in an alert bar under the menu bar which states that 'this document needs to be signed';
Select 'View Signatures' in the alert bar;
Double click next to 'X' or right-click on the signature line and then click 'sign' in the drop-down list;
A Sign box will appear next to 'X' where you can type your name to use as your signature, or you can upload an digital image of your written signature you might have stored on your computer by clicking 'select image'. The digital image of your signature can be created easily by scanning your signature and then saving the file as PNG file;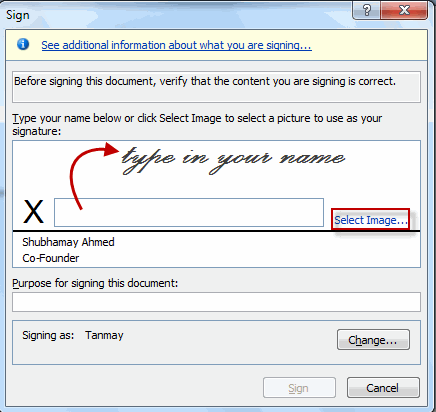 Click Sign;
After the process is completed the digital signature will be inserted in the Office document.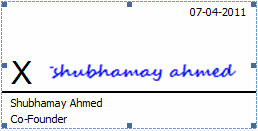 After you insert signature in word document, it will become read-only to prevent modifications to its content. You can, however, edit the digital signature in word document whenever you need to;
How to remove a digital signature in word document or worksheet
Here are the steps to remove digital signature from a Microsoft office document that has been digitally signed:
Open the office document that contains the signature you want to remove;
Click the Microsoft Office Button, point to Prepare, and then click View Signatures;
In the Signatures task pane, point to the signature that you want to remove, click the arrow that appears on the right, and then click 'Remove Signature' option to remove;
When you are asked if you want to permanently remove the signature, click 'yes';
You can edit your digital signature by clicking 'Signature Setup'option;
Conclusion
The above facility to insert signature in word or excel worksheet in Microsoft Office has been introduced in 2007 Office system. This feature allows you to add digital signature in word document and Excel workbooks only. The ability to capture digital signatures by using signature lines in Office documents makes it possible for organizations to use paperless signing processes for documents like contracts or other agreements. Unlike signatures on paper, digital signatures can provide a record of exactly what was signed and they allow the signature to be verified in the future. When the signer adds a visible representation of his or her signature to the document, a digital signature is added simultaneously to authenticate the identity of the signer. Keep in note that any type of editing after the signature line is not allowed. So make sure to insert the signature line at the very end of your document. So, if you can follow the steps mentioned above on how to add a signature in word it would be easy for you to assure the recipient about the validity of your important messages.