How to record iPhone screen free.
How to record iPhone screen free is one of the most frequently asked questions I hear from iPhone users. Due to security and privacy reasons, Apple doesn't permit any applications to record your iOS device's screen. However, there are free applications, which are not available in the Apple Store, that allow you to record your iPhone screen directly from the device. 'Record My Screen' and 'Shou' are two such free screen recorder apps, which can record iPhone screen, iPad screen or iPod touch screen with or without jail-breaking the device without the help of computer.
Here I am going to show you how to record iPhone screen free of cost with everything on it live for both – without Jail-breaking and with Jail breaking your device.
How to record iPhone screen free without Jail-breaking
'Shou' screen recorder is an excellent application for recording iPhone and iPad screen free without Jail-breaking your device. All you need to do is to install the program on your iOS device and you are ready to record iPhone screen effortlessly. This app is compatible with both iOS 7 and 8.
Below is a simple guide on how to record iPhone screen without Jailbreak with the help of Shou App. This app is available from a website, called Emu4ios, which provides different apps and emulators. This guide is also applicable for recording iPad screen.
Step 1: Launch 'Safari' on your iPhone and open the URL-  http://emu4ios.net;
Step 2: Download and install Emu4ios Store (Beta version) on your device. From the Emu4iOS Store, you'll be able to download apps that are not in the iOS App Store;
Step 3: After successful installation of Emu4ios Store on your iPhone open Emu4iOS  app;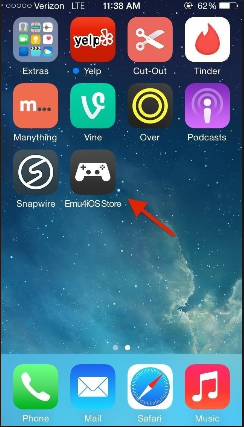 Step 4: Find the Shou screen recorder app from the list of several Apps displayed on the screen and install it for free;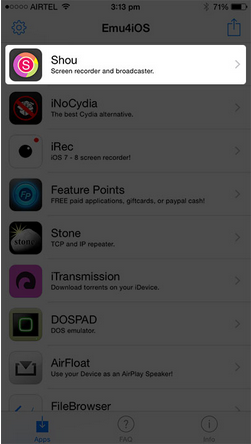 Step 5: After installation of the app is completed launch the Shou App. You are required to sign up before you can launch the app. You can use your Facebook account or Google+ account  to sign up;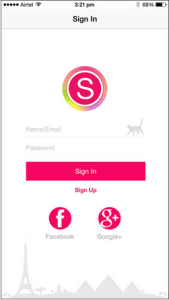 Step 6: After you have launched Shou App, you will see two options – Start Broadcasting & Start Recording. You can change the recording screen resolution, orientation, bitrate and format before starting recording of your iPhone's screen.  To do so, tap on the tiny "i" next to the Start Recording and choose your preferred option;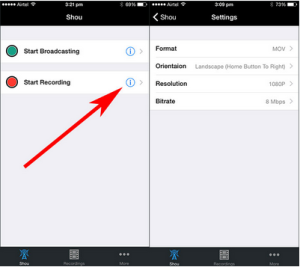 Step 7: After selecting your settings tap Start Recording button to start the process of recording your iPhone screen. A red banner will appear on top of your screen after the recording starts. You can use your device normally once the recording begins;
Step 8: If you want to stop recording, go to Shou and press Stop Recording;
How to record iPhone screen free for Jail-broken device
One of the best tweaks out there to catch my attention, which allows Jail-broken iPhone users to record iPhone screen is, 'RecordMyScreen' app, which is a free open source screen recorder that allows live recording of what's on their device screen. It is optimized for iPhone, iPad Air and iPad mini. You won't get this tweak in App-Store. Cydia is an alternative to Apple's App-Store for "Jail-broken" devices, where users can go and download plenty of interesting Cydia apps and tweaks to install on their iPhone, iPad or iPod Touch.
How to record iPhone Screen with 'RecordMyScreen' App .
1. First have a Jail-broken iOS Device. Now, when the device has been Jail-broken it leaves an App on the home screen called the Cydia App;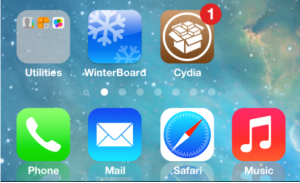 2. Launch Cydia app on your device home screen;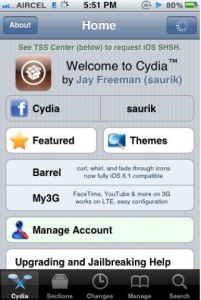 3. Search for "RecordMyScreen (Tweak)" in Cydia's search function (without quotes), and install this cydia screen recorder tweak onto your Jail-broken iPhone. Installation takes less than a minute;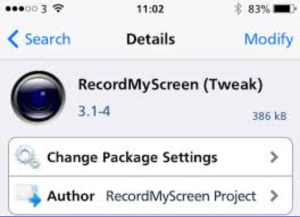 4.  A blank white icon with the name 'RecordMyScreen' will appear on your device upon installation;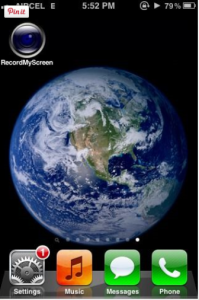 5. Click on 'RecordMyScreen' icon. You will see two options on your screen, one is "Record" and the other one is "Stop";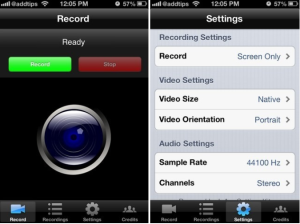 7. Click on 'Record' button to start recording your iPhone's Screen;
8. Click on 'Stop' button once you are done;
The screen recording will be saved automatically under the Recording tab. The 'RecordMyScreen' is pretty slick cydia screen recorder app and takes no time to record iPhone screen with everything on it. Advance options like save to Drop-box and send via mail are available under Recordings tab only.
Conclusion
Now that you know how to record iPhone screen free of cost, just proceed to install 'Shou screen recorder' to record your iPhone screen without Jailbreaking the device or install 'Record My Screen' App if you are having a Jail-broken device. You need not worry about any security issue as the steps mentioned in the guide are completely safe and you can feel free to install the free screen recording apps mentioned above on your iPhone.
If you found this article helpful, please leave a comment in the section below.