How to screenshot on laptop, smartphone or tablet.
How to screenshot on laptop remains one of the most frequently asked questions as for many users, taking screenshots is an activity performed every now and then. You may need to capture and send a screenshot of your device to tech support team or email an image to a friend or you may need screenshot for work report or for whatever other reasons. Most of the Operating Systems have got built-in features for capturing and saving screenshots that work great for basic tasks. However, there are many third-party programs for taking screenshots that offer more ease of use and features.
Whether you're running Windows, Mac, iOS, Android, or other mobile operating systems, the methods described in this post to show how to take screenshot in laptop and other popular smartphones or tablets are absolutely free and without any hassle.
What is a screenshot?
Before I go to show how to screenshot on laptop and devices running on Windows and other Operating Systems, first let us look into, what exactly is a screenshot? A screenshot or screen capture is a picture taken by using the device in question, to record the visible items displayed on your screen to show someone an issue you are facing with the system or for whatever other reasons. Such image is saved as a graphic file. Taking screenshots is not difficult and some of you may not be aware that you can do it easily.
How to screenshot on laptop and other devices
Taking screenshot on laptop running on Windows
The easiest way to take a screen shot on Windows laptop is to use the Print Screen (often shortened to "PrtSc") key. The Print Screen key is located at the upper right side of most of the keyboards. Press it once and it will take screenshot of your entire screen. Hitting this button essentially copies an image of your entire screen to the clipboard. You'll then need to paste the image into a program be it a Word document, Paint or some other image editing program to view, edit or save the image. It is recommended to use the Paint program. To open Paint Program on your system – Go to Start -> All Programs -> Accessories->Paint. The image will be saved as a PNG file.
If you've got a multi-monitor setup, and want to capture only the active window press the Alt and PrtScn buttons together. If you are using Windows 8 or Windows 10, simply click the Windows Key + Print Screen to automatically save a full-screen screenshot within the Screenshots folder of your picture directory.

In case of any difficulty in locating or using the 'Print Screen' key you might prefer to use another built-in program in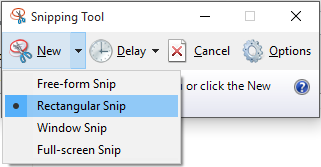 Windows called 'Snipping Tool' (available in Windows Accessories folder). This free program has been a part of the Windows Operating System for a long time. Once launched, it allows you to take a screen shot easily by clicking 'New' at the top left corner of the tiny 'program window' and then selecting the area that you'd like to capture. You can choose the type of snip you want to make by clicking the arrow next to "New." You can choose from one of four types of snip – free-form, rectangular, window, and full-screen. Rectangular area is the most commonly used option. When you select it, your PC screen will dim and you use your mouse to draw a rectangle around the portion you want to capture and then release your mouse to get the screenshot. You can then edit the screenshot, using highlighter and pen tools.
How to screenshot on laptop running on Mac
Now how to screenshot on laptop with Mac Operating System? When using Mac OS based PC, press cmd+shift+3 keys at the same time if you want to take a screen shot of the entire screen area. A PNG format of the image file of the screen will be automatically saved on your desktop.
If you want to capture a select area of your screen then press cmd +shift +4 keys together. Your cursor will turn into a cross-hair. Now, click and drag the cursor to select the area you want to capture. When you are ready to take a screen shot, release the mouse button. The screen shot is taken and it is saved as a file on the Desktop.
An alternative to the keyboard shortcuts on Mac is to use the 'Grab' tool. Grab is a program that is included for free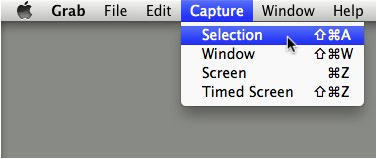 in Mac OS in the Utilities folder under Applications.  It allows you to take screenshots easily by clicking Capture button and then selecting the type of screenshot that you'd like to take. It can take a screen shot of the whole screen, a window, or a selected section, and it has a timer so you can capture items like drop-down menus. Grab captures images in TIFF format (Tag Image File Format) which you can save in your desired file.
How to screenshot on laptop and other devices – taking screenshots on Smarphones and Tablets
The ways to take a screen shot on a Smartphone or tablet differs depending on the operating system and device used. Here are the methods used to take screenshots with some of the popular phones and tablets running on different Operating Systems.
Screenshot on Android phone
For majority of Android phones and tablets (Android 4.0 or later) there are built-in options for capturing screenshots. To take a screenshot you simply press and hold the 'Power' and 'Volume-down' buttons together (there is a slight knack to this action: press the power button too soon and the display will switch off; press the volume-down button too soon and your screenshot may be marred by an onscreen volume slider). After a 1 or 2 seconds the screen will flash white and the screenshot will be saved in your photo Gallery, usually inside the screenshots folder. A notification will appear in the drop-down bar at the top of the screen, giving you options to delete, share or edit the image.
If your device has a physical home button, as is the case with the Galaxy S series, there is a different method for taking a screenshot. You Press and hold the home button and the power button at the same time. You'll hear the camera shutter sound, along with a short flashing animation. You'll now be able to see the screenshot in the Gallery app, or in Samsung's built-in "My Files" file browser
In case your phone doesn't have a built-in screenshot feature you have the option to try an app to take a screenshot. One of the top rated free screenshot apps is Screenshot Easy, which uses the same basic triggers as Android itself.
For older Android Phones running anything earlier than 4.0 the only real way to capture a screenshot is to use an app.
Screenshot on phones running on iOS
There is only one option for taking a screenshot in Apple's iOS running on iPhone, iPad, and iPod touch. Hold the Power (Sleep/Wake) button (on top or the right side of the device, depending on the model) then click the Home button. You'll hear a camera shutter sound and see a "flash." The screenshot image will appear in your Camera Roll. It's that simple.
How to take a screenshot on Windows Phone
Windows Phones make it a simple process like the other devices to take a screen shot. The methods used to take a screen shot are given below for different versions:
Taking a screenshot on Windows Phone 8
Screenshot feature is officially there in Windows Phone 8 and you don't need any third-party tool for taking screenshot with it. All you need to do is press the Power and Start buttons at the same time. Doing so will take a screen shot of whatever is currently on the screen. During the capturing, the screen of your device will flash and a usual photo-clicking sound will be there.
Taking a screenshot on Windows Phone 8.1 and Windows 10 Mobile
Taking a screenshot of anything in Windows Phone 8.1 and Windows 10 Mobile is quite easy and it involves pressing only two buttons. Just press and hold the Power and Volume Up buttons at the same time and you will see the text "Saving to Screenshots" on the top side of the screen. The screenshot is automatically saved in the Screenshots sub-folder under Picture folder.
Taking a screenshot on Windows Phone 7
Just like earlier versions of Android OS there is no built-in feature to capture screenshots on your Windows Phone 7. In fact, the screenshot feature has been included in the Windows Phone 8 onward only. However, even if you have Windows Phone 7, there is a way now which is almost as simple as the default print screen in a PC. You can take a screen shot easily by using a free app 'Screen Capture'. It requires your phone to have multitasking enabled on it. Once you have enabled it, go to the download link for Screen Capture tool and install the app. After installation, reboot your device and run the app. Now go straight to the screen you want to capture and press "Focus" and keep holding it until the app  confirms that you have successfully taken the screenshot.
Taking a screenshot on BlackBerry
Q and Z series
Blackberry Q and Z series comes with an in-built feature for capturing screenshots. To take a screenshot of your BlackBerry device, hold the Volume Up and the Volume Down keys (located on the right side) together until you hear the shutter sound. The screenshot image will appear in your Pictures app under 'Recent' tab.
Curve and Bold series
The curve and bold models don't come with the in-built feature for taking screenshots like the Q and Z series. The only real way to capture a screenshot for these models is to use an app.
You may also like: How to Record iPhone Screen
Conclusion
When it comes to basic screenshots any of the above methods showing how to screenshot on laptop and other devices is going to serve your purposes. While Android and iOS users will typically use their respective built-in methods to take a screen shot on a Smartphone or tablet, Mac and Windows users have a lot of third-party alternatives to choose from. However, third party apps may have their appeal but when you are using multiple devices it's good to have knowledge about what built-in methods are available in them to take a screen shot.