iWatch features and how to use them.
If you are searching for major iWatch features and what does the iWatch do, you have probably come to the right place. The Apple watch scripts a new chapter in wearable technology. It introduces an iOS-based user interface designed specifically for a smaller device that enables you to communicate in new ways right from your wrist. There is no denying the fact that after smart-phones the wearable technology, be it smart watches or smart glasses, is the next big thing as it represents the next stage in the evolution of man machine interface.
The Apple smart watch is a customizable wrist watch designed to work with the iPhone. This smart watch enables you to send and receive messages, and answer calls to your iPhone right from your wrist eliminating the all-too-common need to take out your device too frequently to check notifications. Before we discuss about the major  Apple iWatch features  let us first look into 'how does the iWatch work'.
How does the apple iwatch work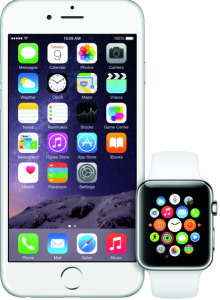 The apple smart watch is not a standalone device and is designed to be an adjunct to your iPhone and is meant to stay paired and connected for most of the iWatch features while you wear it, like relaying notifications and messages. Nevertheless, it can also do a few things stand-alone, too. It is also designed to work with Apple's new continuity features that let users shift tasks from one device to another with ease.
Now how does the iWatch work? The iWatch features a scroll-wheel Digital Crown on the side that provides an innovative way to scroll, zoom and navigate smoothly, without obstructing the screen. The Digital Crown also operates as Home button (to return to the home screen) and helps easy access to built-in Siri making it more useful than ever for smart messages. Apple Watch has a 'Taptic Engine' that produces 'haptic' feedback (sense of touch on the wrist) when you get notifications, alarms and other messages. Whenever you receive an alert or notification, or perform a function like turning the Digital Crown or pressing down on the display, you feel a physical sensation on the wrist that's noticeably different for each kind of interaction.
Let us now look into the main specifications of Apple smart watch and its latest pricing before I go to describe the key iWatch features and what does the iWatch do using these features;
iWatch Specs & costs
 Here is a quick look at some of the key specifications of the watch:
Available sizes: 38mm and 42mm (1.5 and 1.7 inches);
Apple Watch requires iPhone 5, iPhone 5c, iPhone 5s, iPhone 6 or iPhone 6 Plus running iOS 8.2. or later;
Features Wi-Fi 802.11b/g and Bluetooth 4.0 to pair with iPhone;
4GB internal storage for music;
512MB RAM;
200 to 250 mAh battery – 18 hours battery life and MagSafe charging;
Wireless Charging;
Integration with the iPhone, iPad, and Mac;
Biometric functionality;
NFC enabled Apple Pay feature;
Use Skin Contact for Apple Pay Security;
Retina touchscreen display with Force Touch, and sapphire glass or Ion-X glass cover depending on model;
The Apple iWatch series also features a heart rate sensor, accelerometer, gyroscope, ambient light sensor, and two microphones for better call quality. The Apple Wrist Watch has a number of Apple's own apps but Apple has opened up the platform to third-party app developers.
Apple Watch upgrade
While Apple is continuing to sell the first-generation Apple Watch, which it is now calling the Apple Watch Series 1, it has rolled out the latest Apple watch series 2 model in September 2016. The Series 1 is, by and large, identical to the original Watch with upgraded dual-core S2 chip.
The key changes introduced in Apple Watch Series 2 model are its improved Water Resistance design, powerful duel-core Processor, watch OS 3 operating system (which is much easier to use), two-times Brighter Display and built-in GPS. With built-in GPS you'll now be able to track your walks and runs in the Activity app (and in third-party programs) without having to bring an iPhone along for the ride.
Apple Wrist Watch versions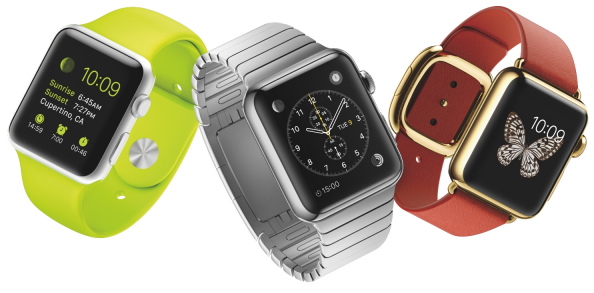 The Apple Wrist Watch has been launched with three editions – Apple Watch, Apple Watch Sport and Apple Watch Edition. It is fully customizable with several watch faces and leather, metal and plastic bands. Out of the three editions the first variant, 'Apple Watch', comes with a polished stainless steel case, and a choice of steel or space black finishes. The second variant, 'Apple Watch Sport', has a lightweight, scratch and impact resistant, Ion-X glass screen. Its body is made from anodized aluminum. The third one, 'Apple Watch Edition', was made from 18-karat rose or yellow gold, which has since been discontinued and replaced by ceramic Apple Watch Edition. Ceramic is one of the hardest materials in the world — more than four times harder than stainless steel — with a beautiful, white, pearl-like finish, making Apple Watch Edition extremely scratch-resistant.
All three editions are also offered in two sizes, depending on which better fits a user's wrist.
Pricing
The Apple Watch Series 1 Sport starts at $269 for the 38mm versions and $299 for the 42mm versions. Apple Watch Series 1 is available in gold, rose gold, silver or space gray aluminum cases paired with a Sport Band. Apple doesn't offer a Series 1 in Stainless Steel.
The Apple Watch Series 2 Sport starts at $369 for the 38mm versions and $399 for the 42mm versions, while the regular version is $549 and $599 in 38mm and 42mm respectively.  Apple Watch Series 2 is available in gold, rose gold, silver or space gray aluminum, or silver or space black stainless steel cases paired with a wide variety of bands.
For the Series 2 models, there are 11 Sport options, all prices starting at $369 and 9 stainless steel options at prices ranging from $549 to $1099.
The prices vary depending on casing size and band selected, with 42mm models priced $50 higher than 38mm models for all Apple Watch options.
The ceramic Apple Watch Edition is sold with a single band at $1,249 for 38mm or $1,299 for 42mm. With the introduction of the new glossy white Ceramic Apple Watch, Apple has discontinued the previous-generation 18-karat Gold and Rose Gold Apple Watch Edition models. Gold Apple Watch Edition models are no longer available for purchase from the Apple Online Store.
iWatch Features
While some of the Apple iWatch features look more minor there are a handful of truly awesome things that the Apple wrist watch can do. Here are some of the coolest iWatch features that can be used right from your wrist:
Digital Crown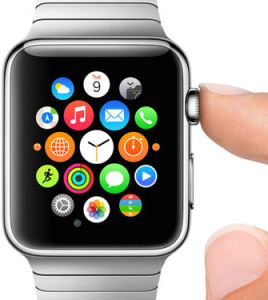 One of the coolest Apple iWatch features is its 'Digital Crown' that makes navigating the small watch screen easier. The Digital Crown is a knob on the watch's right edge that acts like a home button. Pressing it returns you to the main screen, and turning it lets you zoom into apps or scroll through options in the interface.
How to use Apple wrist Watch Digital Crown
From your watch face, simply press in the Digital Crown to access the home screen. You can also press in the Digital Crown to leave an app, or double press the Digital Crown to swap between your two most recently opened apps. It can also be held to manually activate Siri, instead of saying 'Hey Siri'.
Tell time accurately
Apple wrist watch tells time with amazing accuracy. The device will sync within 50 milliseconds of the time in your location using the internet. The watch will also work as a stopwatch, timer, alarm clock and a world clock, which is extremely useful for travelers. If you move from one time zone to another, Apple Watch automatically adjusts. When daylight saving time begins, Apple Watch simply changes to the new time. So you never once have to set it yourself.
How to read the time
When you raise your wrist, the time should automatically be displayed on your Apple Watch, much like a traditional smartwatch.
Control music
One of the most popular iWatch features is that it can control music on your iPhone or iPad or Computer around. It can also store up to 2GB locally and play back music all on its own as good as any iPod ever could. This feature makes the iWatch perfect for joggers. The Apple Watch can also control your iPhone's music playback, both locally stored music and from iTunes. If your iPhone is streaming to AirPlay-enabled speakers, whether you're in your office or at any other place, you can control all of that as well, right from your wrist. With Apple Watch, it'll be more like an iPod Nano – a small window that really lets you see into your audio.
Notifications & alerts
One of the most important iWatch features is the ability to keep you connected to your notifications without needing to have your iPhone near you all the time. With apple smart watch, all of your notifications are at your fingertips, as if someone is next to you, tapping you on the wrist whenever you get an alert. To make sure you don't miss any notifications, you can turn on a Notification Indicator that will display a red dot on your watch face if you have unread notifications. Viewing a notification is as simple as raising your arm. To respond to it, scroll to the bottom of the notification and tap the button to perform the action. You can also dismiss a notification by swiping down on it or scrolling to the bottom of it and tapping 'Dismiss'. When your Apple Watch locks or you turn on 'Do Not Disturb', your notifications go to your iPhone instead of your watch.
By default, notifications on your apple smart watch are actually set up to mirror your iPhone settings, so any app you have notifications enabled for on your iPhone will also appear on your Apple Wrist Watch. For built-in apps, you can customize the notifications on your Apple Watch by following the steps below:
Open the Watch app on your iPhone, tap the My Watch tab, and then tap Notifications;
Tap an app;
If you want the app's notification settings to mirror settings on your iPhone, tap Mirror my iPhone. If you want to use different notification settings just for your Apple Watch, tap Custom;
Some Apple apps, like Calendar, Mail, and Messages are customizable with a few additional features. Be sure that the notification you wish to customize is already enabled on your iPhone first.
Remote Control Functions
With your Apple iWatch you may never have to leave your sofa again, as it will also function as a remote control for your devices. It will skip through music on your iPhone or iTunes music library, navigate your Apple TV menu, enable 'Do Not Disturb' and 'Airplane' modes on your phone or turn on/off the smart lights in your home – all from your wrist.
Access Siri
Siri, Apple's voice-activated digital assistant, is a huge part of the Apple Wrist Watch. Siri is integrated into Apple smart watch allowing you to accomplish many of your favorite voice command tasks without pulling your iPhone out, including dictating a message, asking to view your next event, making a query and receiving an answer. Apple's digital assistant does everything it can on your phone, including sending messages and searching the web.
Apple Watch Siri may not be quite as full-featured as iPhone Siri, but your digital assistant can still do a bunch of tasks. Apple Watch Siri is just as good at turning things on and off as iPhone Siri. You can ask Siri to disable or enable Bluetooth, turn on Airplane mode, and even enable or disable accessibility features like VoiceOver.
How to use Siri on the Apple Wrist Watch
To activate Siri, you can either raise your wrist and say "Hey Siri" or press and hold the Digital Crown. Unlike Siri on the iPhone, Siri on the Apple Wrist Watch doesn't speak to you and instead relies on text to reply to your commands. If you want to find out the list of things that Siri on Apple Watch can do, say the words "Hey Siri, what kind of things can I ask you?" and you'll receive an extensive list. The long list includes the various functions that Siri can perform, like setting alarms, opening apps, making phone calls, and sending messages. Weather, maps, music controls, sports scores, stocks, basic Q&A facts, etc. Plus, each item includes a list of example sentences you can say to activate a feature.
Track health and fitness
The Apple iWatch is a great health and fitness device, motivating you to get active. An Activity app on the smart watch collects data on all your movement in the day whether it be standing, moving or running and prompts you to get up when you've been sitting still too long. The app does this by setting and tracking three daily targets: to sit less (your target is to stand for at least one minute in each of at least 12 separate hours), to move around more (measured according to the calories you burn), and to log 30 minutes of brisk activity every day. You can also set goals and the app shows your progress on rings that fill up as you approach your targets. The app tracks your daily activity, and stores that information over time, while a built-in Workout app shows real-time information such as distance traveled, calories burned and it lets you set goals for each workout. A built-in heart-rate sensor keeps track of your heart with daily summaries showing your step count and heart rate. According to Apple, over time the Apple Watch gets to know you just as a personal fitness instructor would.
How to use Apple Wrist Watch to measure your heart rate
In order to measure your heart rate manually, make sure that the Apple Watch is tightly but comfortably placed on your wrist. Then all you need to do is to swipe up from the watch face to access the 'Glance feature' and then swipe over to the heart rate monitor glance. Your heart rate will be taken and displayed.
The Apple iWatch, together with the Cardiogram app, can reportedly detect one of the most common heart arrhythmias called atrial fibrillation. Not only that, the accuracy rate is pretty high, which makes it not only convenient, but reliable as well.
Navigate around
Another one of the useful iWatch features is that it can show your current location, turn-by-turn directions, and how long it will take to get to your destination with the the help of a 'Map' application. Perhaps the most interesting and unique feature of Apple Maps on the wrist is haptic feedback. Once your walking route is set, the watch will buzz, essentially, when you're supposed to turn right or left (a different sensation for each direction). This means you can get directed without even looking at your wrist watch, which helps users stay safe on the street.
How to navigate around using Maps app
You can quickly access your current location by swiping up to access your Maps Glance, but if you want to interact with it then you have to tap on it to open the full Maps app. Once you've opened the Maps app, your current location will be displayed. You can zoom in and out using the Digital Crown, or using your fingers. If you want to search for a location, simply press firmly on the screen and select "Search". Once you've searched for your desired location, the Apple Watch will display all relevant information about the location including contact information, opening times and reviews. You can then select whether you want walking or driving directions, with an estimated journey time next to both, and then tap "Start" to initiate the turn-by-turn navigation.
Apple Pay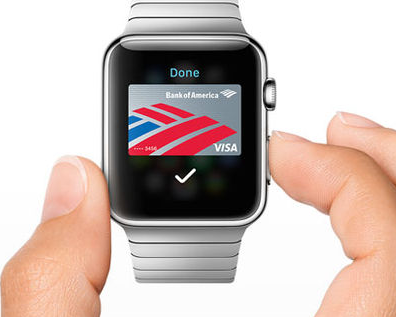 Apple Pay is a fast, easy, and secure way to pay using your Apple smart watch. Apple Watch brings this handy function to those on iPhone 5 and later. Apple Pay payment system allows users to get rid of their plastic cards. No more fumbling around to find your credit card, showing ID and signing a receipt.  Apple Watch supports the new NFC-enabled Apple Pay feature built into the iPhone making it even easier than getting out your phone. Simply tap your watch on the reader and approve the transaction and you're good to go.
How to use iWatch to make payment through Apple Pay
With NFC-enabled Apple Pay feature built into your iPhone, all you have to do is just double-click the side button and pick the card you want to use and hold the Apple watch face close to the payment terminal or reader. You'll hear a beep and feel "a gentle pulse" confirming that your payment has been made.
Passbook Integration
Thanks to Passbook on the Apple Watch, you can breeze through airport security while on travel. You can quickly pull up your plane tickets, boarding passes and loyalty cards without having to reach for your phone. When you enter a place where your discount or loyalty cards can be used, the app will also send you an alert.
Unlock hotel room
An app on your Apple Watch would turn the watch into a room key so that you can unlock your hotel room with a tap on your iWatch, which will be easier than pulling out your room key from your wallet. However, it's not clear if this will work with all of the group's hotels, including Sheraton, Westin, and Aloft brands, but it won't be surprising if plenty more hotels follow suit soon.
Activation Lock
For security reasons Apple has recently introduced this iWatch feature. When you activate your Apple Watch, you'll be required to enter your iCloud Apple ID and password, so the device is tied to your account and no one can use your watch if it's stolen. However, using this feature is optional.
Change the Apple Watch face.
One of the biggest selling points of the Apple Wrist Watch is its customization ability. To change the watch face simply force touch on the iWatch face. This will take you to a menu where you can swipe left and right to choose between a variety of watch faces, some traditional, some unique. Once you've found a watch face that you're happy with, simply tap it to select it.
While Apple isn't allowing developers to create faces for the Apple Watch, it is possible to personalize your Watch face with some creative designs. There's a 'Tumblr' site called 'AppleFaces' that features a number of designs that can be downloaded and are the correct dimensions to be used as a Watch face. You need to download them on your iPhone in order to have them appear on your Watch.
Make phone calls 
There are several ways to make phone calls on the Apple Watch. If the person you want to call is on your favorite list, access your favorite contacts by pressing the side button underneath the Digital Crown and select the person you want to speak to. Once you've selected the person to call, just tap the Phone icon in the bottom left hand corner of the display to initiate the call directly from your Apple Watch.
You can also make a call from the Apple Watch via the Phone app, available on the home screen. When you open the Phone app, much like the iPhone app, just select the contact from the displayed categories and the call will initiate from your Apple Watch.
You can also answer calls from your Apple Watch using it as a small Bluetooth speaker phone. When you get a call from your iPhone, your Apple Wrist Watch will also ring. This can be muted by placing your palm over the screen, or you can tap the green icon to answer the call on your Watch.
If you don't want to answer the call on your Watch, you can use the Digital Crown to scroll down and select "Answer on iPhone". This transfers the call to your iPhone and puts the person on hold until you unlock your iPhone to take the call.
How to charge the device
For charging the device Apple iWatch comes with a unique charging system that combines Apple's MagSafe technology with inductive charging. You simply hold the connector near the back of the watch, where magnets cause it to snap into place automatically.
 Conclusion
Apple is encouraging third party developers to create apps especially for its Apple Smart Watch using Watch-Kit – the software toolkit Apple built for third-party app development and it is easy to see that the possibilities are endless. In the near future this apple smart watch could be used as your electronic boarding pass or for finding your car or to remotely start your car and for many more services. The argument that smart watches cause privacy issues appears baseless. While it is fact that wearable technology devices by their very disposition would require access to cloud to function at its best, this is not a prerequisite. Just as in smart phones, smart-watches will also have privacy settings that allow users to decide what information they would like to share with the cloud or remote servers.
Now that you know how does the iWatch work and how to use the coolest iWatch features, you can very well realize that the iPhone Compatible Apple Wrist Watch  is practical, stylish and real fun.