What to do if your iPad/ iPhone Touch Screen not working properly?
You will agree that 'iPhone touch screen not working' properly or 'iPhone screen not responding' to touch is one of the most challenging and frustrating issues that iPhone owners encounter at times. This is mainly due to the fact that operation of iPhone or iPad is entirely based upon the Touch feature, and this feature is the primary mode of interaction between you and your apps. This is besides the fact that you have spent a considerable amount for owning these Apple devices. After launching of iPhone 5, 'iPhone 5 touch screen not working properly' was an issue, often reported by the iPhone users. However, Apple took note of this problem and occurrence of this issue has been considerably reduced for the subsequent models. Although the issue of 'iPhone screen unresponsive to touch' doesn't occur that easy for later models, but still one can come across complaint like 'my iPhone screen won't work' from many iPhone users of new models. For some users, it is found that the iPhone screen not working or responding fast enough while for some others certain portions of the screen or whole of it do not respond to touch. Most of the times the iPhone touch screen problems arise due to LCD screen, but in a number of cases a simple restart or cleaning the connectors have done the job right.
 iPhone touch screen not working properly – probable causes
Now let us see why at times you may find your iPhone screen not responding to touch. The probable causes are,
>Too many programs running at the same time causing memory issues;
>Exposure to water/ liquid;
>Accumulation of dirt or grease and foreign materials on the screen;
>Dry soldering of touch screen connectors;
>Faulty primary or secondary touch screen control IC;
>Touch screen got physically damaged;
iPhone screen not responding to touch – steps to fix
If you find your iPhone touch screen not working properly, you need not worry as like other smart-phone problems, this issue also has solutions. Here are few simple steps you can try when you find your iPhone screen unresponsive. First of all try to remove any protective screen cover on your Apple device, since it might be obstructing the touch screen from working. If this does not work then follow the steps below:
Step 1: Restart the iPhone
At times, you may find your iPhone screen not responding when too many programs are being run at the same time. This takes up a great deal of memory causing the screen to freeze and hang and you cannot close the applications. In such a situation when you find your iPhone touch screen not working right and is frozen up, it is best to force the running applications to stop. The problem can be resolved by restarting your iPhone. To restart the device, follow the steps below:
i. Press and hold the Sleep/Power (On/Off) button at the top of your iPhone until the red slider bar appears;
ii. Drag the slider to turn your device completely off. Most of the programs shall close when the phone is turned off;
iii. After the device turns off, press and hold the Sleep/Power button again until the Apple logo appears;
Your iPhone touch screen problem should now be resolved.
Step 2: Reset the iPhone
In rare occasions 'iPhone screen not working' issue may not be solved by following the above restart process. In such a case, it may be necessary to reset your iPhone which means the phone will be forced to shut down without going through the usual process. To reset your device press and hold both the Sleep/Power (On/Off) and Home buttons at the same time for at least 10 seconds, until the phone restarts and displays the Apple logo. Release both the buttons and it should restore the screen to full working order. No data will be lost from your device for this reset.
Some iPhone users could solve the issue when they find their iPhone screen not responding to touch by going to Settings > General > Reset > Reset all Settings.
Step 3: Restore iPhone to Factory settings
If the above steps fail to fix the 'iPhone Touch Screen not working' issue and you still find your iPhone screen unresponsive then you may need to perform a factory reset i.e. restore your iPhone to its original factory settings. However, you need to remember that restoring your iPhone to factory settings shall delete all your data on the device. Therefore, make sure to backup your entire data before going for restoring the device. To restore your iPhone to its original factory settings you are to follow the steps given below:
i. Connect the iPhone to your computer using a USB connector;
ii. In the device list in iTunes select your iPhone, and click Summary at the top;
iii. Click 'Check for Update' to know if any newer version of the your iPhone is available;
iv. Click Restore and follow the onscreen instructions to complete the restoration process;
While restoring, you back up your iPhone when prompted. Once the restore is completed, you can either set your iPhone as a new phone, or restore your entire data including videos, music and other content from the backup.
In case iTunes does not recognize your iPhone, it may be necessary to use recovery mode to restore your device as shown in the following step.
Step 4: Use recovery mode
To put your iPhone into recovery mode, follow the steps below:
i. Turn off your iPhone;
ii. Plug in your iPhone's USB cable to your computer with iTunes;
iii. Connect the USB cable while you hold down the Home button on your device. Keep pressing the Home button until you see the following 'connect to iTunes screen';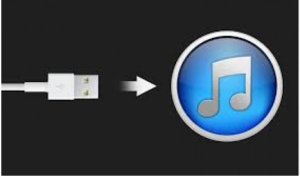 iv. Once you see the above screen, let go the Home button. If you don't see this screen, try the steps over again;
When your iPhone is connected, iTunes will open and the following message saying that iTunes has detected an iPhone in recovery mode will appear.

Now use iTunes to restore your device.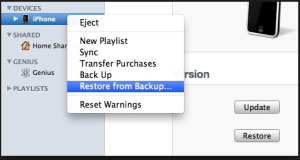 Restoring in recovery mode will delete all the data on your device. If you previously synced your iPhone with iTunes you will be able to restore from the Back up as below:
i. Connect your iPhone to your computer that has backup of your device;
ii. Install the latest version of iTunes;
iii. Choose File > Devices > Restore from Back up;
Professional help for 'iPhone touch screen not working' issue
If none of these steps resolves the iPhone Screen not working issue, physical screen display defects cannot be ruled out as the cause of the problem especially if you have accidentally damaged your phone. It is not rare for an iPhone to slip out of hands by chance and get damaged making the iPhone screen unresponsive. In such an event, realigning or replacing both the glass and the LCD could be the solution. Replacing the screen really isn't that difficult. However, if you don't know how to realign or replace your iPhone screen you may have to take help of the professionals. You can go to an Apple service center or make an appointment at the Genius Bar inside your local Apple Retail Store and let an expert do the realignment or replacement of the screen. Even if you have not purchased the AppleCare plan you are still covered under 1 year warranty which is normal for all Apple products. However, make sure you do not jailbreak your iPhone as this may void the warranty of your phone. Alternatively, you can take the phone to an experienced repair shop where skilled hands can evaluate and fix your iPhone touch screen problem with no hassle.
You may also like: iPhone Home Button not working – how to fix
Conclusion
Touch screen devices like iPhone, iPad, Tablets etc. are not only quite costly but also very sensitive and easily damaged. Proper care of your iDevices, therefore, is essential to avoid issues like iPad or iPhone touch screen not working as it should be or not responding to touch. To prevent malfunctioning of the touch screen devices you may consider carrying cases and protective screen covers for your iPhone or iPad. While handling your device try to keep your hands clean so that the screen remains free from dirt and grease which begin to damage the internal components and eventually you may find your iPhone screen not responding to touch or your iPhone screen not working properly. The calibration of the screen may also start to falter over time and you may eventually find your iPhone screen unresponsive. You should consult your operating manuals for instructions on how to re-calibrate the touch screen in such situation.
Related Post: iPod Touch Screen Not Working – how to fix the problem?