Know how to restore iPhone from iCloud backup.
Here is a simple guide on how to restore iPhone from iCloud backup. Once configured properly iCloud automatically backs up all your data including messages, apps, Camera Roll photos, purchased music and other media files etc on your iPhone, iPad or iPod Touch wirelessly and store them on Apple's server. You just plug in your iDevice into a power outlet, lock its screen, and your device will automatically transmit its backup files to your iCloud account, as long as there is an available Wi-Fi connection. Once the contents on your device are backed up in iCloud, you can restore them on a new iOS device, or on one you already have. However, with your free iCloud account there is a limit to free storage space which you can use for all your iOS devices, which is 5 GB.
Steps to restore iPhone from iCloud backup
The following steps will guide you on how to restore iPhone from iCloud backup when setting up as a new device or after erasing all data from your device using Settings > General > Reset > Erase All Content and Settings.
1. Connect your iDevice to Wi-Fi and plug it into the charger;
2. When prompted by Setup Assistant  ('Setup iPhone' screen) by a new iPhone to choose from options to set up as a new iPhone or to restore from backup, select the option 'Restore From iCloud Backup';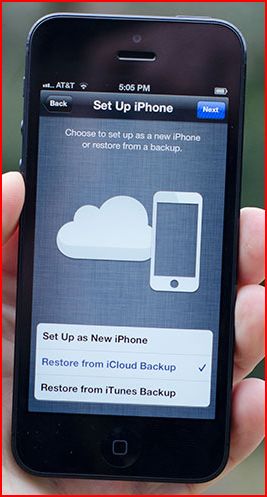 3. Sign up for a free iCloud account (you can do it from here);
4. Go to Settings > iCloud > then scroll down to 'iCloud Backup' to set it 'ON';
5. Once logged in you will be presented with the 'Choose Backup' screen;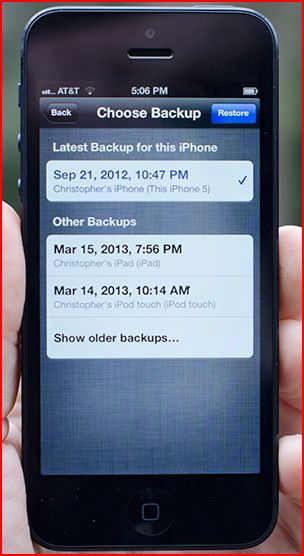 6. Select the 'Latest Backup for this iPhone' option and click on the 'Restore' button at the top right;
7. A screen will pop up with the message, 'Restoring from backup'. You will also see a progress bar that shows the time remaining as iCloud restores your iPhone data;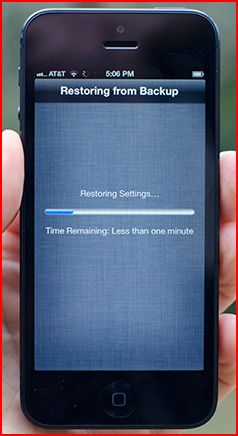 8. Enter any passwords required when prompted;
9. Wait for the 'Thank You' screen to indicate completion of your iPhone set up;
Once the settings and core apps are restored your device will automatically restart and iCloud will begin downloading all the purchased apps from your previous backup. You will see a progress bar under the apps that are currently downloading. If you want a specific app to be downloaded first, you can change the priority by tapping its icon to move it ahead in the queue. To check if the restoration of iPhone from iCloud backup has been fully done go to Settings > iCloud > Storage & Backup.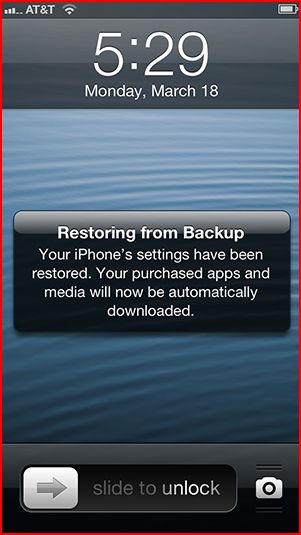 Conclusion
When you first set up your iPhone, iPad or iPod Touch you are offered the option to back up your data to Apple's iCloud service. As local backups on your Mac or PC can be problematic should you have trouble with your computer it is considered more dependable from data security point of view to move to the Clouds for data backups. iCloud not only makes it easy for you to restore iPhone from iCloud backup whenever necessary, it also makes easier for you to migrate your data from iCloud to a new iOS device. Nevertheless, I would suggest to keep your data also backed up locally via iTunes to your computer so that it can be restored from there if need be.