All you need to know about Wireless Internet for home.
If you are going to set up your wireless internet for home for the first time and want to know all about Wi-Fi internet but do not know whom to ask for, then you have probably hit upon the right article. Here in this post I am going to explain everything you wanted to know about Wi-Fi technology e.g. what is Wi-Fi,  how does it work, which Wi-Fi Router is right for you, what is Wi-Fi hot spot, how to secure a wireless network etc.
Wi-Fi of late has become the preferred mode of internet connection almost anywhere, for home, at work, in libraries or at schools. Wi-Fi technology has not only helped us to break away from wire connections for internet access but has also made it possible for different users to share an internet connection all at the same time. So, if you are thinking of going wireless and setting up wireless internet for home, then the following information may come handy for you.
Wireless internet for home – Know what is WiFi?
Before you go to set up your home wireless internet you should know first what is WiFi? WiFi is an acronym for Wireless Fidelity and a trademark of the Wi-Fi Alliance and is a technology and set of standards that allows connection between devices without wires or cables. This Wireless Local Area Network (WLAN) allows the devices such as personal computer, smart phone, tablet, video-game console etc. to communicate with each other with the help of a tool called Wi-Fi router. Wi-Fi networks have limited range that depends on wireless router being used. For wireless networking for home internet, a typical Wireless Access Point (802.11a) with a stock antenna supports a range of up-to 15 m indoors and 30 m outdoors.
Data transmission frequency
The network for home wireless internet normally transmits data at a frequency level of 2.4 GHz or 5GHz. In order to communicate with each other freely, the devices using radio waves are tuned to a specific frequency. This allows them to avoid interference from any other wireless device in the vicinity. However, the transmission frequency level of 2.4 GHz used by most of these devices creates network congestion and interference. Because of this problem new Wi-Fi routers have started using a frequency level of 5GHz, which is less-crowded and provides better transfers as compared to a 2.4GHz router.
Nevertheless, as the frequency level of radio signal rises, its range becomes shorter and hence a 2.4GHz router covers a larger area than a 5GHz device.
What is the meaning of WiFi –'N' ?
After release of Wi-Fi in 1997, there has been several updating of the technology with new standards in order to meet the increasing bandwidth requirements of the newest devices using radio signals. The latest standard, which is Wi-Fi-'N', has a higher notional speed of 300Mbps and the newest smart phones, laptops and tablets support this standard. Wi-Fi-'N' provides superior signal strength due to better signal intensity and can use either the 2.4GHz or the 5GHz frequency for transmission of data. However, it is more predisposed to signal interference.
Wireless internet for home – what is Wi-Fi Router and how to choose one?
Wi-Fi router is an essential hardware for setting up your wireless internet for home (home local area network). While choosing a Wi-Fi router that will be best fit for the network for your home wireless internet there are certain things you should keep in mind. Figure out for what purpose the router will be used (i.e. for gaming, video streaming etc), the number of devices to be connected to it, the desired range that the signal will need to go, whether all the devices to be connected support WiFi 'G' or 'N' etc.
Difference between Single band and Dual band routers
Single-band routers use a frequency band of 2.4 GHz and do not support 5GHz. Its range and speed are limited compared to dual-band routers, which support both the 2.4 GHz and 5 GHz frequency bands but can work with only one band at a time. Dual-band routers are faster, have longer range and are less prone to interference from other wireless devices in the vicinity. However, efficiency of Dual Band Routers maximizes when using devices compatible with 5 GHz. When 5 GHz gadgets are not within range, only the 2.4 GHz frequency band gets used. There is another type of router called Simultaneous Dual-band Router, which works with both frequency bands at the same time and is faster and more flexible.
Basic router
If you want an entry-level simple router at a reasonable price, the Netgear WGR614, which is an excellent performer, will get your job done. However, in case you need a router with built-in modem, the cheapest one which can fulfill your basic wireless needs is the TP-Link TD-W8951ND, which has many of the features that we would only expect on more expensive routers.
Router with USB support
If you want a router at a reasonable price, with USB support so as to connect a printer without the hassle of wires then Asus RT-N13U Wi-Fi router that comes with a USB port looks to be a great unit. You can also use the port to connect an external hard disk to make it possible to access the contents of the disk from any device that is connected to the same Wi-Fi network. The router USB port also supports wireless internet dongles from mobile operators to connect to Wi-Fi networks making the router a portable Wi-Fi hotspot.
WiFi routers with built-in modem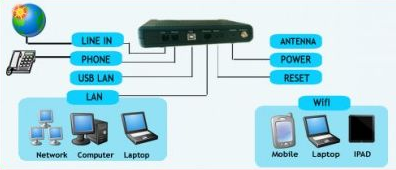 Normally, broadband connections to households are provided via ADSL or DSL modems connected to a phone line. Wi-Fi routers with built-in ADSL or DSL modems are available in the market, which takes away the need for purchase of modem and router separately for your broadband connection for wireless internet for your home.
It is, however, suggested to use a separate modem and Wi-Fi router, as routers with built-in modem can get unstable due to over heating under heavy load condition.
Wireless internet for home – how does WiFi work?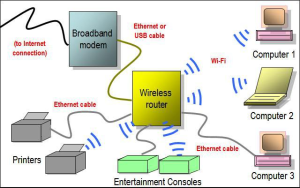 Now that we know all about Wi-Fi technology let us go into the basics of how wireless internet works? Wi-Fi technology uses radio waves to transmit and receive data anywhere across a network within a particular range. Computers with built-in wireless adapter (wi-fi cards) translate data into a radio signal which is then transmitted via the Wi-Fi network to a decoding device known as Router. The decoded data from the router are then sent to the internet through a wired Ethernet connection and through a Modem, which is a device that provides access to the internet. Since the Wi-Fi network system works as both-way traffic, the data received from the internet also pass through the router to be converted into a radio signal that will be picked up by computer's wireless adapter.
Wireless internet for home -how to secure a wireless network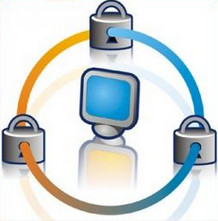 Security can be a major concern for wireless technologies. The risks to users of Wi-Fi have, of late, increased considerably as the service has become more popular. Wi-Fi network and your private data can be subjected to un-authorised access by others nearby without your knowledge if adequate protection is not taken. Thankfully, there are varieties of wireless security measures, of varying efficacy and practicality.
Most Wi-Fi routers broadcast the wireless network name known as SSID (Service Set IDentifier) automatically and continually. One of the simple but not so effective ways of securing your connection is by hiding the access point's name by disabling this SSID broadcast. When you keep your network name hidden from most people the router will not show up making the access point difficult to detect for the outsiders seeking connection to your network.
All routers sold today come with various means of encryption to defend the network. While WEP (Wired Equivalent Privacy) is more commonly used security standard, the most advanced and secure method of encryption is the newer Wi-Fi Protected Access 2 (WPA2), which is the best wireless encryption standard currently available. WPA2 encryption has two modes – Personal mode and Enterprise mode.
Personal mode: It is for networks meant for home wireless internet and small offices which do not require the complexity of authentication server. Here wireless network device encrypts the network data using a 256 bit key and allows users to set a strong password.
Enterprise mode: It is designed for Enterprise networks and needs an authentication server. This mode requires a more complex setup, but provides advanced security and is not recommended for home or small office use.
What is a Wi-Fi Hotspot?
A Hotspot is a place that provides Internet access over a wireless local area network through a router connected to a link to an Internet service provider. Hotspots typically use Wi-Fi technology. It can either be through a closed network for wireless internet for home or public places such as airports, cafes, libraries and hotels. As already explained your computer would need a wireless adapter in order to be able to access a Hotspot. A built-in adapter is already included in an advanced laptop model normally. Otherwise a wireless adapter can be bought separately and plugged into the USB port of your computer. Once installed, your system will automatically detect the Wi-Fi hotspots and seek connection.
Conclusion
Now that you already know what is Wi-Fi and everything related to it, here are few important points to note before you set up your first wireless internet for home through broadband connection:
If you connect several gadgets such as streaming videos, music etc to the router all at a time via your wireless network a basic router may hang due to overloading;
If you want to connect more than 8/10 devices to your Wi-Fi network you should go for a Dual-band Router;
For connecting devices like streaming HD videos or gaming videos which require speed and lot of bandwidth, it is advisable to go for a Simultaneous Dual-band Router;
Since Wi-Fi technology has gained wide popularity you should not go for buying a 2.4GHz router due to increasing possibility of interference from surrounding networks in the vicinity;
In order to ensure that there is no interference from other Wi-Fi networks nearby you should buy a Wi-Fi router that supports the 5GHz frequency;
However, in such a case, before changing over to this frequency band exclusively, make sure that all your gadgets support the 5GHz band;