Get YouTube On your Kindle Fire HD.
Can't watch YouTube Videos smoothly on your new Kindle Fire HD or HDX? Get the YouTube app for Kindle Fire HD for smooth video watching on your tablet.  Here is how you can get the Kindle Fire YouTube app on your Tablet. Read on….
Though, the Kindle Fire HD and HDX are extraordinary tablets from Amazon, possessing awesome features and both running on Android Operating System, it is not possible to install all the Android apps on either of the device out of the box. One of the main complaints about the Kindle Fire is that YouTube videos which are widely watched by people can't be watched smoothly on these tablets because the YouTube app for Kindle Fire is not pre-installed on them. Some users complain that the YouTube pages fail to load or loads erratically in some instances. Therefore, if you want to play YouTube videos smoothly on your tablet, you have to take help of a YouTube app compatible with Kindle Fire. But not only no Kindle Fire YouTube App comes pre-installed on the Amazon's Kindle devices (Kindle Fire, Kindle Fire HD, Kindle Fire HDX), you also cannot add any Kindle Fire compatible YouTube app on your device via the Amazon App-store. There are some Kindle Fire compatible apps that are available in Google Play Store, but are not available in Amazon App-store. YouTube app for Kindle Fire is one such app which is not present in Amazon App-store. Hence, it can be said that Kindle Fire has its own limitations.
The Kindle Fire tablet has a 7 inch big display which is very suitable for watching videos. Therefore, the question is how we can get Kindle Fire compatible YouTube app on Kindle Fire? Because the official way to get apps on Kindle Fire devices is through Amazon App-store for Android, you have to install the YouTube on Kindle fire from sources other than Amazon app-store. Side-loading is the term used to describe installing an app on your Android device from a source other than an official app store i.e. Amazon App-store in this case. Thankfully, side-loading of Android apps to Kindle Fire is quite easy. If you are willing to install YouTube on Kindle Fire then you need to follow the simple steps given below:
Steps for Adding YouTube app on Kindle Fire HD
1. To allow installation of Applications from sources other than Amazon app-store, first go to the 'Settings' tab by swiping down your finger from the top of your screen and tap on 'Applications';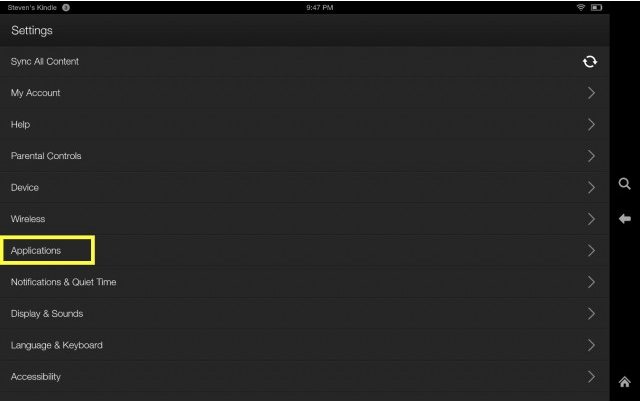 2. Tap the option 'Apps from unknown sources'. This will bring up a warning note telling you that downloading apps outside the Amazon App Store could be harmful. Tap 'OK' (Make sure to do some research to find a reliable download site to accept the warning);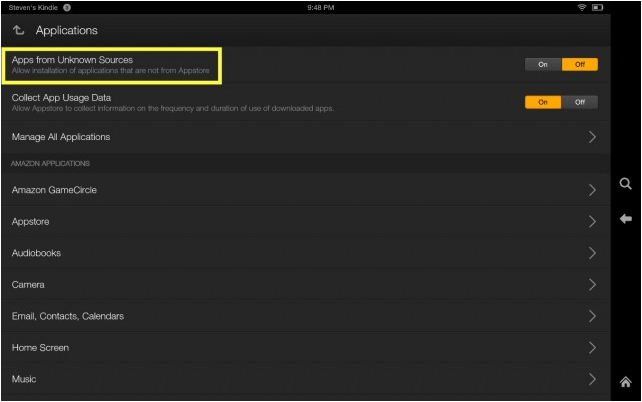 Install YouTube app for Kindle Fire HD
3. Go to Amazon's 'App Store' and download and install a File Explorer or File Manager app on your tablet, which is necessary for side-loading apps.  You can download 'ES File Explorer', which is a free app and simple to use and has a lot of features. It will give you access to the'YouTube App' ('YouTube Apk') after download;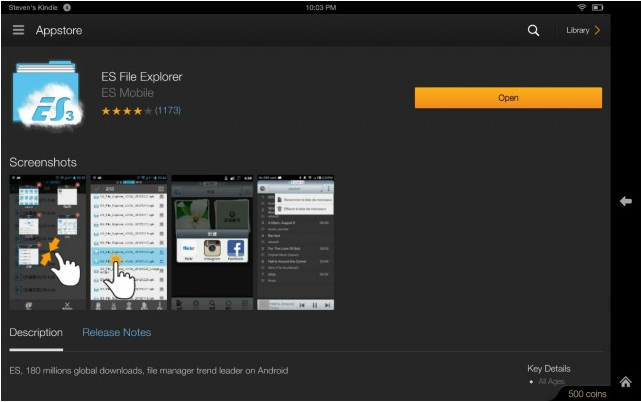 4. To find the app open your browser and search for the latest app by name (YouTube.apk). All Android apps have the file name '.apk'. Make sure to find a reliable download site and the correct name of the app to avoid any malware;
5. Tap the link to download the app in question. This will bring up a prompt telling you that the file will be downloaded to your device, tap OK;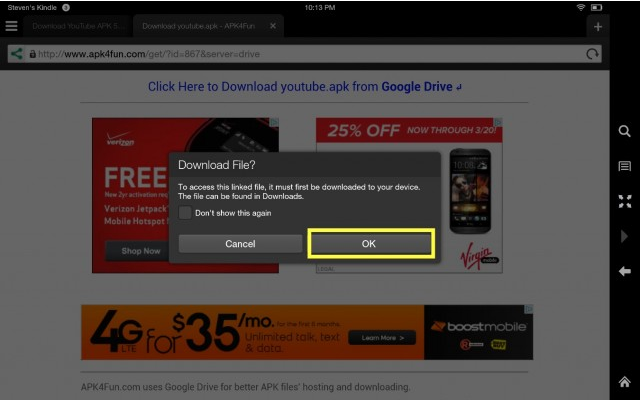 6. Now Open up the 'ES File Explorer' (or any other downloaded file manager app). On the left side tap Local, and in the drop down menu tap Download. This will show you all the files you have downloaded to your tablet. The 'YouTube app' (YouTube.apk) should also be here. If it isn't there try to download it again;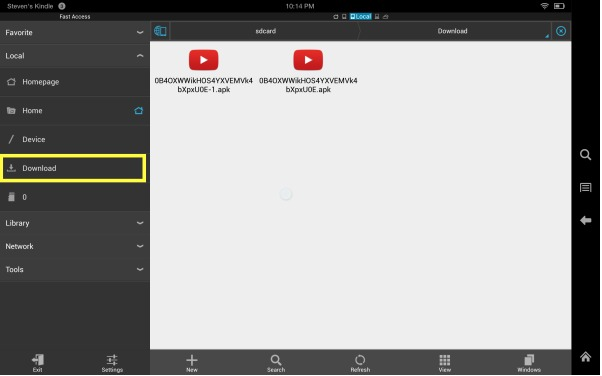 7. Choose the file for the app you just downloaded. This will bring up a screen asking if you want to install the application. Tap Next to install. Wait for few seconds and the YouTube App for Kindle Fire  will be installed;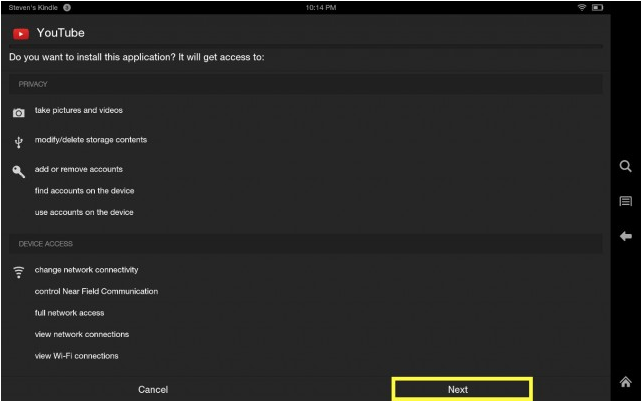 8. Once the app is installed go back to the Home screen to check if the YouTube app on Kindle Fire has been installed. If you did everything right, the Kindle Fire YouTube should appear in the 'Device' section alongside the others. Click the 'YouTube' icon to open it on your Kindle Tablet and start watching videos;
Conclusion
The steps mentioned above, if followed rightly, would allow you to install the YouTube app for Kindle Fire on Kindle Fire HD and Kindle Fire HDX tablets easily.
Now that you know how to get YouTube on Kindle Fire HD you can watch the YouTube videos on your tablet easily and smoothly. However, one caveat here is that even though the YouTube for Kindle Fire is successfully installed on your tablet, it won't give you access to all the features. You can watch as many videos as you like but you won't be able to subscribe to any channel. That's the limitation of YouTube on Kindle Fire.