How to recover data from dead hard drive – available options.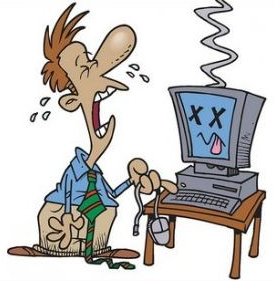 'How to recover data from dead hard drive' is a hot topic. This is because failures of hard drives are not unusual and it may happen to anyone sooner or later. Nevertheless, you could have probably avoided such a dreadful situation had you not forgotten the basic rule of computing– to back up important files and data at regular intervals. This will ensure that the latest version of your data is protected. In the following paragraphs I am going to show the options available to recover data from dead hard drive of a computer and to restore them back to your PC.
Earlier by hard drive crash of a computer we used to mean severe damage to hard drive when read/write head inside the drive comes in contact with the spinning magnetic disc. However, modern drives are usually well protected against such physical jolts and hence this kind of failure is relatively rare than most other typical electro-mechanical faults. Most of the hard drive problems are now seen to be software related and majority of them is due to a corrupt system file. Nevertheless, you need not panic in such situations as all hope is not lost and there is a fair chance of recovery of your important files and documents. You yourself can recover data from dead hard drive, if the components in the drive are still found to be functioning. But if the hard drive is mechanically or electronically damaged you have no option but to send it to a professional data recovery company as your last resort.
Recover data from dead hard drive in case of transient fault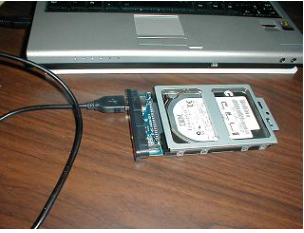 Nowadays a dead hard drive loosely means almost any sort of hard drive failure, including some transient nature of faults. You yourself can recover data from dead hard drive if the failure is due to some faults of transient nature resulting in boot failure. For this, first you are to determine whether it is really a case of drive failure or it is one of those countless transient faults that can result in temporary boot failure. To determine this connect the drive to another computer. In order to do this remove the failed hard drive from the sick computer and connect it to another machine as a secondary drive. The best way to do this is to use a USB to IDE/SATA adapter  or USB universal drive adapter, which costs around $30 and is also a good device to keep for using for all sorts of hard drive diagnostics purpose. Make sure that the machine detects the drive in the BIOS or you won't be able to access it once the computer starts up.
If your hard drive is healthy it is possible that your apparently dead hard drive will show up on the secondary computer and display all the files on it. In such a case, in all probability, your hard drive is fine, but you need to re-install your operating system. However, do not forget to copy the data in the folders that you would like to recover in the healthy computer hard drive  before reinstalling the OS.
On a Mac computer the process is relatively simple. You can use a FireWire cable to connect your defective machine to another working Mac and then, "target boot" your non-working machine by holding down the 'T key' while the power is made on.
Recover data from dead hard drive in case of drive failure
In case your files and documents do not show up on the healthy computer then, in all probability, it is a case of drive failure and you may have to try hard drive crash recovery to recover your data. Depending on the extent of damage to the drive, your effort to recover data from dead hard drive can cost you anywhere from a few hundred to several thousand dollars. Besides, the recovery process can take a long time and there is no assurance that the money and time you spend in your attempt to recover your data from the dead hard drive will produce any result at all. Nevertheless, the good news is, in most cases it is found that hard disk data recovery is possible successfully.
Types of hard drive failure
Before I go to show how to recover data from dead hard drive let me give an idea about the ways a computer hard drive may fail. Normally there are two types of failures of computer hard drives namely, logical failure and mechanical failure.
Logical failure
In a logical failure, the components of the hard drives are not physically damaged. In these failures the drive is unable to find or track the location of its own data because of either a corrupt file system or due to accidental formatting. However, unless the failed drive is overwritten all files and data will still remain on the drive which is apparently showing as dead. In such failure you can use a good data recovery software to recover data from dead hard drive.
Mechanical failure
In a mechanical failure the components of the drive are physically damaged and the broken parts prevent it from working. In such failures you may hear an indicative ticking sound as the drive makes futile attempt to access the files and data stored on it.
Recover data from dead hard drive in case of logical failure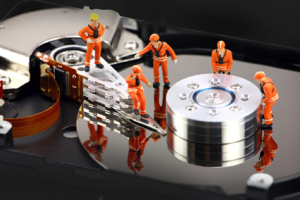 Here are the steps to be followed to recover files and important data from an apparently dead hard drive in case of logical failure by taking help of a hard drive recovery software:
1. Remove the failed drive from the computer;
2. Use an USB universal drive adapter to hook up the dead drive to a secondary computer for diagnosis;
3. Download and run a free demo diagnostic tool to ensure what might be recoverable. There are many free demos available on the internet that will scan your drive and give you a fairly good idea of what's salvageable;
4. Once the analytical outcome indicates good results use any good data recovery software to recover data from your crashed drive. There are many good data recovery software, paid and free, available in the market. My top picks for paid version are Prosoft's Data Rescue PC3, Ontrack Easy Recovery and Recover My Files Pro. Among free software my best picks are Recuva, Wise Data Recovery and MiniTool Power Data Recovery Free. These programs work mostly in a similar way;
5. After downloading and installing the paid or free data recovery software select the failed drive as your source and choose a target folder that will receive the data. (Make sure that the recovery disk has enough space to accommodate all files and data of your failed drive). It may take quite a long time to complete the recovery process and be prepared for this;
6. The most important point is, do not download, install, or extract the data recovery software on the failed drive that you want to recover. This would actually overwrite the files that you want to retrieve;
Recover data from dead hard drive in case of mechanical failure
If it is a case of mechanical failure and you can hear a telltale clicking sound indicating the drive's futile attempt to access the files, then your files and data may still be there and you stand a fair chance of getting them back. But in such failures you can not recover files from hard drive without taking help of a professional expert providing hard drive crash recovery services. Some of the experts in the field providing services at a charge for data recovery from crashed hard drive from either logical or mechanical failures are, Secure Data Recovery, Gillware, Kroll Ontrack and Seagate Data Recovery. Their charges depend on the severity of the drive failure. However, in case of a logical failure, you can recover your files on your own at a much lesser cost.
You might also like: Recover Formatted Hard Drive
Conclusion
The discussion above on how to recover data from dead hard drive will remain incomplete unless I also mention here about the shape in which you are going to get your files back after hard drive recovery. Do not expect to recover data from dead hard drive back in exact condition you originally stored them on the disk. All the hard disk data recovery programs are designed basically to do a data dump from your failed drive to a new disk. You will get your recovered files arranged in separate folders by types like Word documents, JPEG images, MPEG movies etc. and the songs and photos will be randomly mixed with sound and image files in the computer's system folder. Moreover, the names of the files will be changed to various sequences consisting of both letters and numbers like, IMG1234.jpg or MOV1234.mov. So after you complete the above process to recover data from dead hard drive you may have to carry out the long tedious job of renaming your recovered files.