What to do if you drop your iPhone in water.
If your iPhone fell in water, toilet or in bathtub slipping out of hand, it is not an unusual occurrence. Therefore, try not to panic in such a situation. With a little luck, it is often possible to save your iPhone from water damage. I have explained here the best strategies to save your device and to bring it back to normal operation if your iPhone dropped in water accidentally. The steps mentioned here on how to fix a dropped iPhone in water are also applicable for dealing with iPad or iPod Touch.
What to do if your iphone fell in water
Time is the essence after your iPhone fell in water and the most important thing to do in such a situation is to get the phone out of water as quickly as possible so that your iPhone water damage can be minimal. Leaving your iPhone in water even for a few seconds more might cause water damage beyond repair. iPhone, like any other electronic device, faces potential damage when they come in contact with any kind of liquid. However, just because your iPhone dropped in water or in toilet by accident, doesn't mean it is gone forever and cannot be recovered. Once your iPhone fell in water by chance, you have quite a good chance of bringing the phone back to life. But most important thing to remember is not to charge the phone or turn it on for at least 24 hours after your iPhone fell in water or any kind of liquid.
Now what to do to save your device if your iPhone dropprd in water or in any liquid? Follow the steps suggested below without losing any time to save your iPhone from water damage.
Steps to follow to save your dropped iPhone in water 
Step 1: Get the phone out of water as quickly as possible after your iPhone dropped in water by chance;
Step 2: After you get your iPhone out of water turn the wet phone off by holding down the Sleep/Wake button, if it has not already turned itself off. This would prevent the possibility of a short circuit of the electronic circuitry inside which would render the iPhone useless. Turning it on after the iPhone fell in water always poses a risk of damage;
Step 3: Remove phone cases or covers, if any, since they can trap in moisture. Take out the SIM card and the Battery also if you are confident 'DIY-type' user, and place it on a paper towel to dry it off;
Step 4: Use a clean cloth or some paper towels to wipe off as much of the exterior water as you can from your iPhone. In order to clear the ports and sockets turn the iPhone upside down and give it a gentle shake. Don't move the phone excessively while you do this as otherwise the water inside would move around and do further damage to the phone. Don't be tempted to power your iPhone on and see if it still works. It might stop the phone working forever;
Step 5: Remove any headphones, ports, chargers, USB cables, or accessories immediately;
Step 6: Now with all visible water removed put the iPhone in an air tight plastic bag surrounded by a bunch of Silica gel packets to draw out the moisture. Silica gel is an incredibly moisture-absorbent substance often found in Arts & Crafts shops or in electronics stores. You can find Silica gel packets even at a local shoe or department store. You may also be able to buy them from a craft and handbag shops. Some hardware stores sell a product called DampRid, which you can put in a sealed bag with your iPhone for 24 hours to suck the moisture out of it.
If you can't get hold of the Silica gel sachets or any moisture-absorbent substance  quickly, place your wet iPhone in a bag of uncooked rice (avoid enriched rice as it leaves a lot of white residual powder) and seal it. Make sure the phone is fully immersed in the rice. This may keep the phone as dry as possible in the intervening period though this is not really going to help much. Transfer the phone as early as possible to the bag of Silica gel sachets after you procure them. You should keep your phone surrounded by a the Silica gel packets without turning the iPhone on or charging it for at least 24 hours.
You may find online several other suggestions  to prevent iPhone water damage that have been tried by people whose iPhone fell in water by accident. However, some of those solutions may even aggravate iPhone water damage instead of saving your phone. Some people have tried to dry out their phones with a hairdryer whenever thier iPhone dropped in water accidentally, which is not generally recommended as the hot air from it could fry up the delicate internal parts of the device. Taking the phone apart after your iPhone dropped in water to dry the interior parts may appear a good idea, but this will also annul any warranty you have left on your device;
Step 6: Now let the iPhone dry in a warm place like in an airy cupboard or somewhat near a radiator (but not on it) for 48 hours or more. A lesser time may work but sometimes it also could be not enough, therefore longer is better;
Step 7: After you have waited at least for 48 hours, open the rice/silica gel bag and take a look at your iPhone. If you think the iPhone has any left-over moisture, do not power it on and continue drying for some more time;
Step 8: Avoid charging the battery for at least 72 hours before attempting to plug it in and turn it on. If your iPhone fell in water, it's a good practice to replace the wet battery just as a precaution (not a must)  and this should always be done for all water damaged devices;
Step 9: If everything appears well, go ahead and turn your iPhone on normally. Now your phone should power on as usual, and hopefully it has survived the water damage;
How to check water damage if your iPhone fell in water 
Apple has equipped iPhone with several water damage sensors that turn from white to red if water or any kind of liquid has accessed into one of its ports. If your iPhone fell in water accidentally you yourself can check these water damage sensors by looking at the table below to find your product and locate the LCIs (Liquid Contact Indicators) in your device. These have been provided by Apple to check iPhone water damage as Apple's regular warranty doesn't cover liquid damage (not covered by Apple one-year limited warranty or an AppleCare Protection Plan)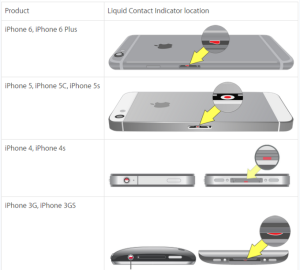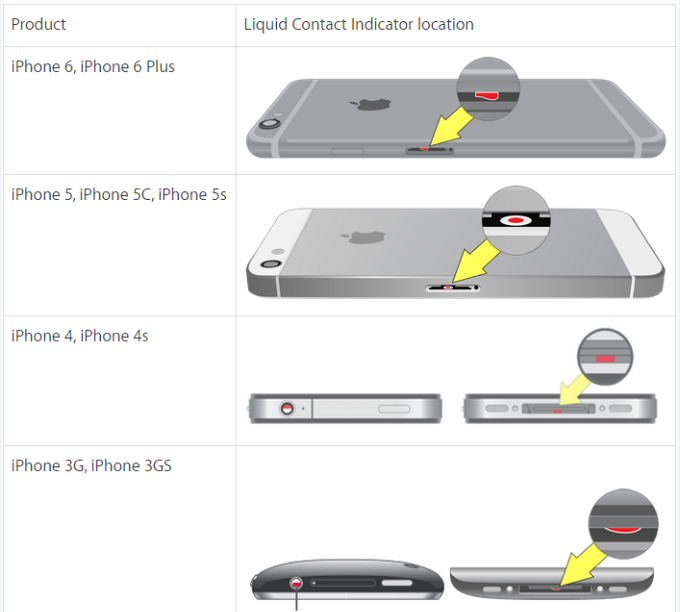 However, if you dropped iPhone in water by accident within the warranty period, you can always take the phone to Apple and see if they are going to replace or repair it free of cost. Though chances are fairly slim, you may be eligible for free repair in view of Apple's new relaxed water damage policy for iPod, which probably includes iPhone. The new relaxed water damage policy states that if a customer disputes whether an iPod with an activated LCI has been damaged by liquid contact and there are no external signs of damage from corrosion, then the iPod may still be eligible for warranty service.
Nevertheless, if you have extended coverage of AppleCare+, Apple will replace the device for about $80, in case your iPhone dropped in water and got water damaged, and that will use up one of your two incidents of accidental damage.
You may also like: Simple fixes if your iPhone won't turn on
Conclusion
Now that you know how to prevent iPhone water damage, you need not unnecessary panic in case your iPhone dropped in water accidentally. The steps suggested above have been found to fix almost every instance of iPhone water damage whenever any iPhone fell in water slipping out of hand unless of course you allow to soak the iPhone in water while turned on for a considerable period (for 15 minutes or longer). The probability of recovery of your dropped iPhone in water diminishes significantly if the device is not turned off and taken out of water immediately after it fell into it.
Similarly, you'll have much better  retrieval chances if your iPhone fell in water, which is fresh and salt free, than you would with salt water which is more corrosive. Soft drinks and sticky beverages are also more challenging as they leave more residues around.