Where to find the default iPhone backup location in your PC
When you backup your iPhone, have you ever wondered where exactly the iPhone backup location is in your computer? This article would help you to locate the place where iPhone backups are stored on Windows and Mac OS X so that you can access the backed up files of your device in case of emergency like loss of essential data for any reason.
How iPhone Backup is created?
Before I go to show the iPhone backup location let me first discuss about how iPhone Backup is created in iTunes. An individual has no role to play in creating such data backups as these data are automatically backed up by iTunes onto a Windows or Mac system prior to an upgrade of the device or during its synchronization. Each time the user connects his iPhone to the computer to synchronize with iTunes, iTunes takes a backup of the entire data on the iPhone first and then moves on to perform the synchronizing tasks. But the real problem lies elsewhere. Apple has tried it's best to hide from the user's view the default iPhone backup location. A user, therefore, faces difficulty to access the backed up data in his attempt to restore iPhone from backup in case of loss of essential contents from his device for any reason. Apple has developed the device such that in general the users can rely on iTunes to handle all their iPhone recovery and backup needs. Nevertheless, you may, for various reasons, like losing your important iPhone data while doing an upgrade or becoming victim of some virus attack, sometimes need to keep your own backup copies for use in such emergency situations to restore your device from backup. However, to do this it is quite obvious for you to know the exact iPhone backup location where backed up files are stored in your PC so that you can extract your lost data from there.
Default iPhone backup location
The best way to find the iPhone backup location to recover lost files is to either use iCloud or iTunes for help. Backups created using iCloud are available for recovery wireless-ly, while those made using iTunes need you to have your iPhone connected to your computer.
Depending upon the operating system in use, there are default locations in your computer where iPhone backups, created by iTunes, are stored. The backup process is essentially the same for both Windows and Mac OS X and the backed up files are stored in the following locations in specific folders under different operating systems:
iPhone Backup Location for Mac OS X
In Mac OS X your iPhone files are backed up at the following location:
~/Library/Application Support/MobileSync/Backup/
The (~) symbol signifies your home directory, which is at the same place where all your other personal documents are stored.
iPhone Backup Location for Windows 10, 8, 7, XP, and Vista:
Windows XP stores all of your iPhone backup files in this location:
C:\Documents and Settings\user\Application Data\Apple Computer\MobileSync\Backup
Windows Vista and Windows 7 back up the iPhone files here:
C:\Users\user\AppData\Roaming\Apple Computer\MobileSync\Backup
Windows 8 and Windows 10 put the iPhone backups in the following directory:
\Users\YOURUSERNAME\AppData\Roaming\Apple Computer\MobileSync\Backup
If your main drive is not C: then you'll have to change that accordingly and same goes for 'User' also.
Note (For Windows users): The Application Data and AppData directories and their contents (iPhone backups included) are considered 'hidden' so you will need to enable 'Show hidden files' within Windows Explorer before you will be able to see the files.
If you, therefore, ever need to restore your device from backup yourself, go to the folders where iPhone backups are stored as mentioned above depending on your operating system, and copy the files to a convenient location easier for you to remember.
Restore iPhone from Backup created by iTunes

'How can I restore iPhone from backup' is a frequently asked question we hear from iPhone users who have the frustrating experience of accidentally losing their rare and important data from their device. My advice to every one of them is not to panic as iPhone is probably the easiest computing device from data backup point of view. You can easily restore your iPhone by accessing all your lost data from the iPhone backup location in your PC where iTunes stores all the backed up contents of your device. In order to restore your iPhone from the backup created by iTunes just follow the below steps:
1.      Connect your device to the computer where your backups are stored;
2.      Open iTunes and get the latest version of iOS, if any;
3.      Go to File > Devices > Restore from Backup. If you're using Windows and don't see a File menu, press the Alt key;
4.      Look at the date and size of each backup and pick the most relevant;
5.     Click 'restore' and wait for the process to complete. Your device will restart and then sync with your computer. Stay connected until the sync finishes;
Access default iPhone backup location by third party tools to restore your device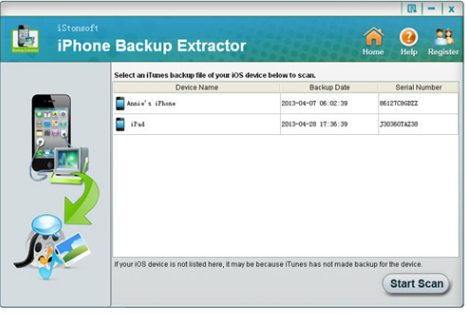 In case you are looking for an alternative way to access iPhone backup in your computer to restore your iPhone from backup you can try some of the third party programs out there on the net. But many of these programs have been found to be not up to the mark as far my experience goes. Nevertheless, I can recommend one good free iPhone data recovery software called 'iPhone Backup Extractor' which I found extremely useful to extract iPhone backup files. The iPhone Backup Extractor will automatically access your iPhone backups on your computer, and you don't have to take the trouble to use the methods presented above to find the iPhone backup location by yourself.
In fact, this software once saved me from a traumatizing situation by helping to recover deleted photos from my iPhone, which I thought were lost forever. Apart from transferring iPhone data to the computer you can also transfer iPhone data to iTunes and can make back up of your iPhone files with the help of this application. You don't need to have any technical knowledge to use this software to restore your iPhone data, be it songs, videos, pictures, WhatsApp messages and attachments, documents, files or folders or anything else in case they are accidentally deleted or corrupted or incorrectly restored.
Just launch the program after installation, when it'll automatically scan all iTunes backup files on your computer and display them on the main interface. Here, you only need to choose your iPhone iTunes backup file and hit "Start Scan" to start scanning for files. After the scan, all your iPhone iTunes files will be categories into different folders. Just click the required folder and find the files you want to recover exactly.
Conclusion
Now that you know how to access iPhone backup in your computer, here is a word of caution for every user. Unless you have knowledge of what you are doing you should not edit any of the files stored at the iPhone backup location as wrong editing or deleting any of these files could cause irreversible problems in your efforts to restore iPhone from backup.